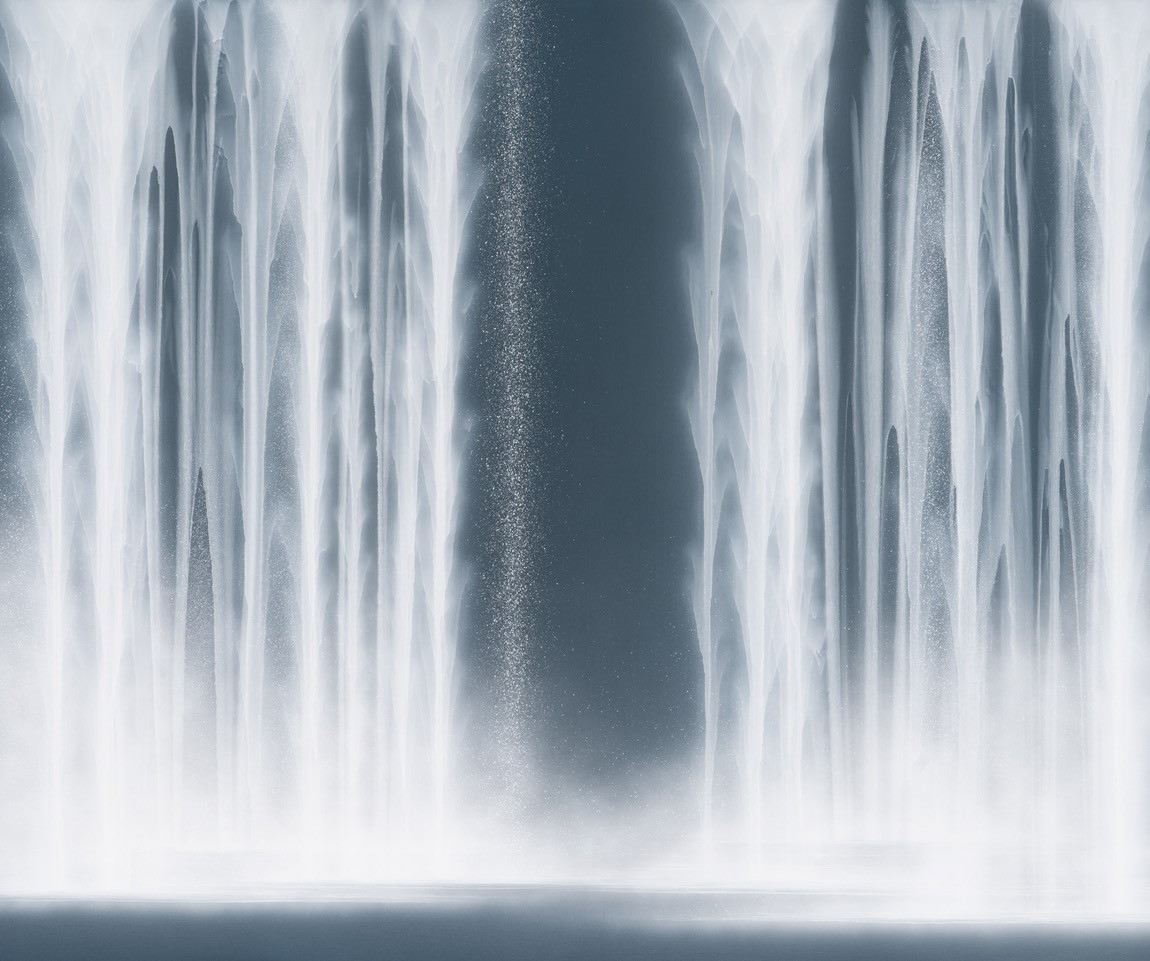 Sundaram Tagore Gallery
Waterfall
Artist Profile
Japanese-born New York-based painter Hiroshi Senju is noted worldwide for his sublime waterfall and cliff images, which are often monumental in scale. He combines a minimalist visual language rooted in Abstract Expressionism with ancient painting techniques unique to Japan. Senju is widely recognized as one of the few contemporary masters of the thousand-year-old nihonga technique, using pigments made from minerals, ground stone, shell and corals suspended in animal-hide glue.

Hiroshi Senju was the first Asian artist to receive an Honorable Mention Award at the Venice Biennale (1995), and has participated in numerous exhibitions including The New Way of Tea, curated by Alexandra Munroe, at the Japan Society and the Asia Society in New York, 2002; Paintings on Fusuma at the Tokyo National Museum, 2003; and Frontiers Reimagined at the Venice Biennale, 2015. He was awarded the Foreign Minister's Commendation from the Japanese government for contributions to art inn 2017, and in the same year, he was honored with the Isamu Noguchi Award.

Public installations include seventy-seven murals at Juko-in, a sub-temple of Daitoku-ji, a Zen Buddhist temple in Japan, and monumental waterfalls at Tokyo International Airport (Handeda). The Benesse Art Site of Naoshima Island houses two large-scale installations.

The artist's tmonumental cliff and waterfall paintings for the Kongobuji Temple at Koyasan—a UNESCO World Heritage Site and sacred Buddhist monument—have been on view in major museums throughout Japan over the past year. They will be installed in the temple as fusuma (sliding doors) this fall.

Senju's work is in The Metropolitan Museum of Art and Brooklyn Museum, New York; the Los Angeles County Museum of Art and the Museum of Contemporary Art, Los Angeles; the Asian Art Museum, San Francisco; the Nelson-Atkins Museum of Art, Kansas City, Missouri; the Royal Ontario Museum, Toronto; the Museum of Modern Art, Toyama, Japan; the Yamatane Museum of Art, Tokyo; Tokyo University of the Arts; and the Kushiro Art Museum, Hokkaido. In 2009, Skira Editore published a monograph of his work titled Hiroshi Senju. The Hiroshi Senju Museum Karuizawa in Japan opened in 2011.

Born in Tokyo, 1958 | Lives and works in New York.
Artist:
Hiroshi Senju
Medium:
Natural pigments on Japanese mulberry paper mounted on board
Size:
162 x 194 cm
Year:
2020