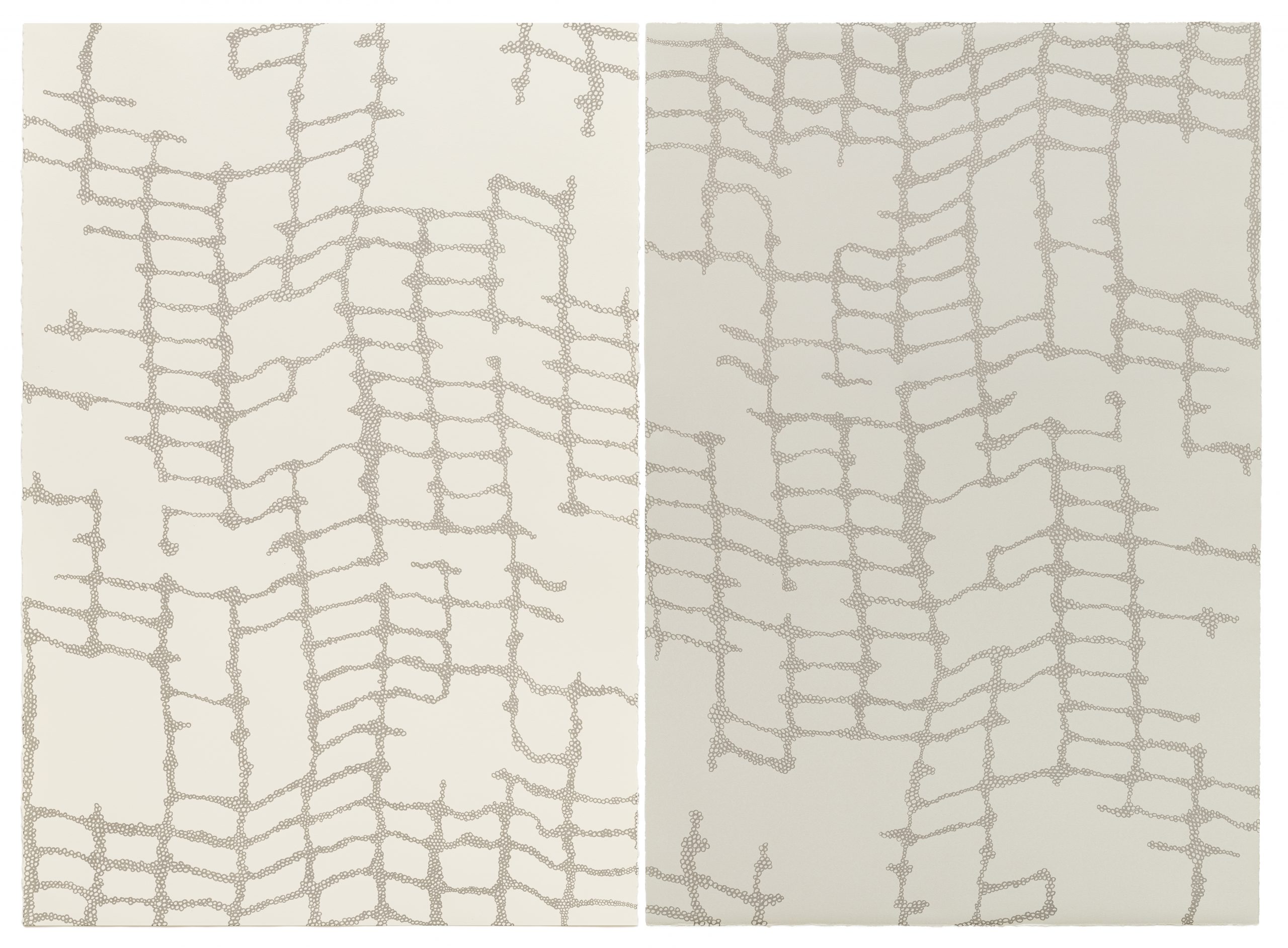 STPI – Creative Workshop & Gallery
Calming Separation 1
About Artwork
Another significant imagery present in Lim's STPI works is that of the plastic net. This net is symptomatic of our present times, where this object has become ubiquitous as a sign for keeping out and segregating human bodies from one another. At the same time, the artist also ponders on what exactly is being kept out and kept in—even with the net, the blockade is a porous one since in everyday occurrences, humans can be found on either side of the net. In this manner, the net is "a filter and not really a filter, a barrier and not really a barrier".
It is also about the material itself, and how there is a very machine-made quality to it yet with time, this item disintegrates and takes on another life outside of its intended means. With this often overlooked material, there is also the sensibility of making art from what is around us, and exploring the potential and possibilities of these items. Following this train of thought, Lim creates a visual interest with this undulating form, as if ripped off from something bigger and a part of a whole. And similar to the circles, one can also lose themselves in observing the details by moving closer to the work, and then further again to appreciate it as a whole, and a part of a larger puzzle.
Artist Profile
Throughout his three-decade long career as a ceramicist and performance artist, Jason Lim (b. 1966, Singapore) has challenged the utilitarian nature of ceramics to expand its potential as a critical medium in installation and performance art. Drawing his inspiration from natural phenomena, Jason works with the living, organic nature of clay to explore the notions of change and transformation through the process of creation. Similar to his sculptural pieces which possess a stark rawness, his performances are marked by a meditative quality.

During his residency, the artist challenged himself to translate motifs found in his three-dimensional works into drawings and, in their final manifestations, through the techniques of lithography, etching, screenprinting and paper pulp sculptures. Using repetition as a strategy, a meditative and durational process found itself into Lim's artwork production. The time spent in the process of making is hence rhythmic, quiet and contemplative.

Jason's first show was in Canterbury, England in 1992. He has since exhibited across the globe in Australia, Germany, India, Japan, Poland, Singapore, The Philippines, Thailand, and the Netherlands. Jason Lim was also part of the Singapore Pavilion at the Venice Biennale in 2007.
Jason's artistic projects, residencies, and travels have been recognized, supported, and awarded with numerous grants and awards from the National Arts Council since 1994.
Artist:
Jason Lim
Medium:
Screenprint on paper, diptych
Size:
112 x 76 cm each Edition of 4
Year:
2021