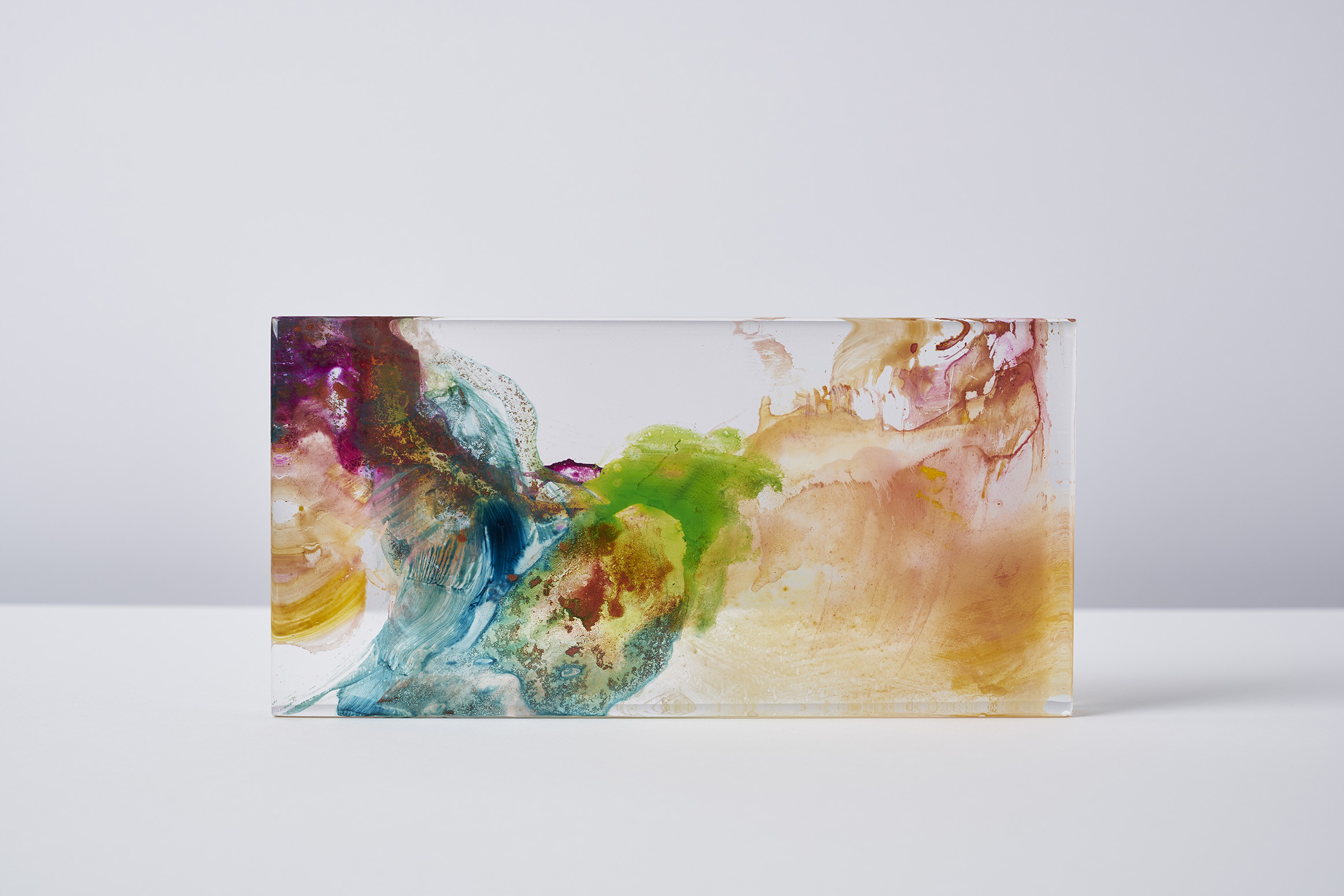 FOST Gallery
00:00
About Artwork
How long is forever? The White Rabbit in Alice in Wonderland will tell you, "Sometimes, just one second."
A day could fly by, or it could feel like one endless loop. The concept of Time may be elusive and abstract, but it is also deeply intimate and personal. In Tan's online exhibition, titled Circadian, the artist tracks her relationship with Time in a series of works that were created during each specific hour of her 24-hour circadian cycle across the lockdown period in Singapore.
Tan experimented with painting on new materials of plexiglass sheets and blocks. Here, her painting moves beyond a typical two-dimensional plane, with each reflective surface of the painted translucent forms shifting and changing according to the quality of light and the angle at which it is displayed. Appearing simultaneously solid and ephemeral, the plexiglass works also suggest the artist's altering perception of the passage of time as her circadian cycle moved in and out of sync while the world was (and is) in flux.
Artist Profile
Wyn-Lyn Tan's (b.1974, Singapore) practice is grounded in painting, and driven by a visual language shaped through rhythm and intuition. Her new series of metal paintings is the result of her on-going interest in 'absence as presence', where there is a constant negotiation between materialised and dematerialised states. Through repeated reductive and layering processes, the mark-making is both immediate and prolonged.

Tan has been awarded numerous grants and residencies since, including the Highly Commended Work Award in Abstract Medium at the 22nd UOB Painting of the Year Competition (Singapore) in 2003, Emerging Artist Grant, 2003 and Arts Professional Development Grant in Visual Arts, 2011 from the National Arts Council (Singapore); and the Fiskas Artist Residency (Finland). In 2011, she was one of two Singaporean artists to ever take up The Arctic Circle Residency.
Artist:
Wyn-Lyn Tan
Medium:
Acrylic and resin on plexiglass
Size:
H9.5 x W20 x D1.7 cm
Year:
2020