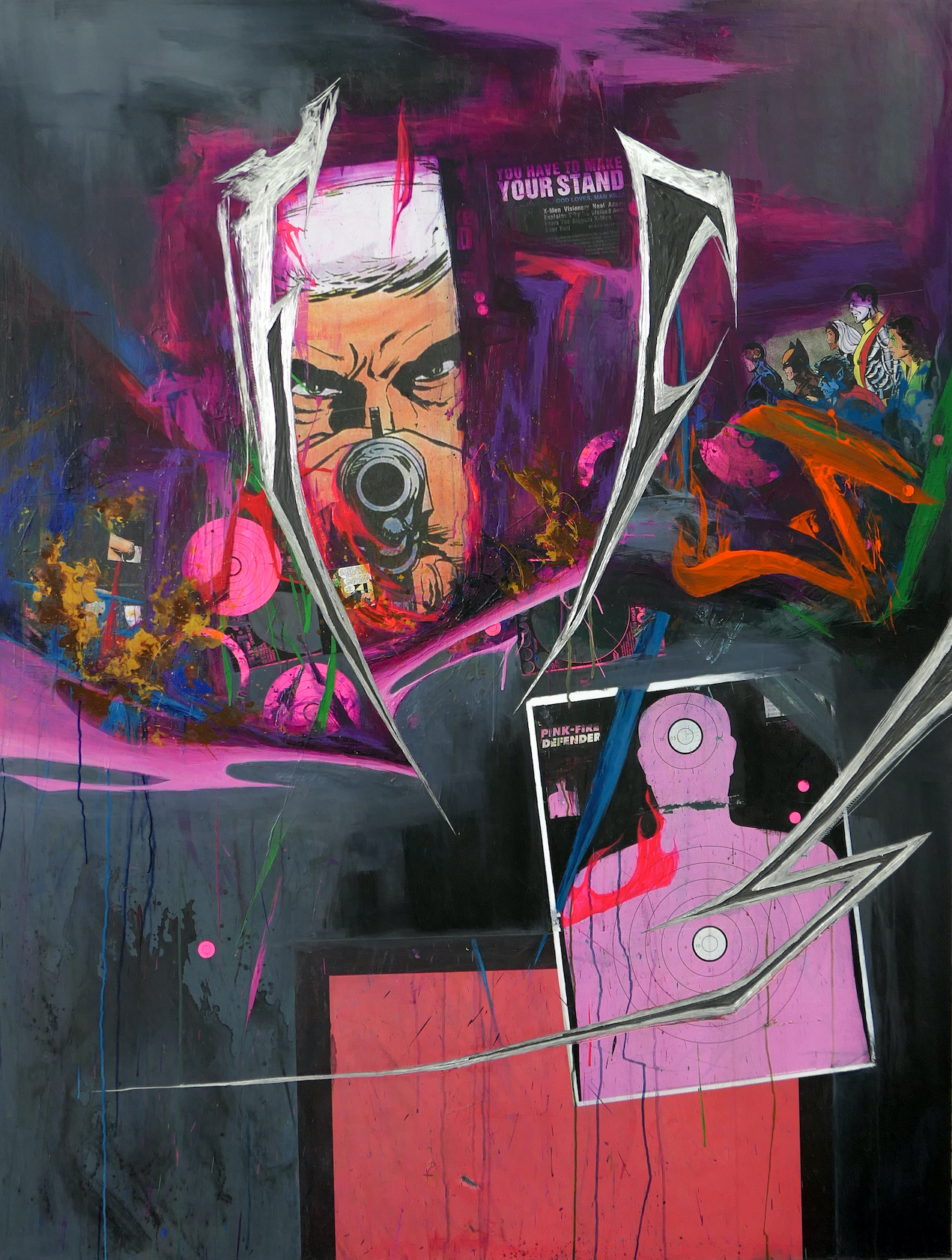 Yavuz Gallery
OPEN FIRE
About Artwork
The painting is titled after fellow Singaporean artist Jason Wee's work from 2017 'Labyrinth (Open Fire)' – a common green fence turned into assemblage art that comments on power, authority and control. It takes its cue from the erection of fences for the first time at the Pink Dot rally that year.
Wee's addition of the pink "dot" in his assemblage is reinterpreted by Tee in the form of fluorescent pink target spots. He also appropriated the climactic scene in the X-Men comic 'God Loves, Man Kills' where the antagonistic William Stryker threatens to open fire at the X-Men. That scene was preceded by a debate between the X-Men and Stryker on view his of mutants as devils. The artist brings out the parallels across the pink dot incident and the comic – both deal with religious fundamentalism.
Artist Profile
Ian Tee (b. 1994, Singapore) graduated with a Bachelor in Fine Arts from LASALLE College of the Arts, Singapore in 2018. His practice is an exploration of youth, in relation to the themes of rebellion, vulnerability and identity. Conflating the history of painting with the energy of subcultures, he is interested in how aesthetic narratives can be reworked and recontextualised. His work manifests in a variety of media — destroyed metal paintings, bleached and dyed textiles, and collage.

He was a recipient of the Ngee Ann Kongsi scholarship and winner of the 2017 Cliftons Art Prize for Singapore. In 2019, Tee presented his first solo exhibition with Yavuz Gallery titled SWEET DREAMS.
Artist:
Ian Tee
Medium:
Acrylic, target papers, comic strips and collage on destroyed aluminium composite panel
Size:
200 x 150 cm
Year:
2020